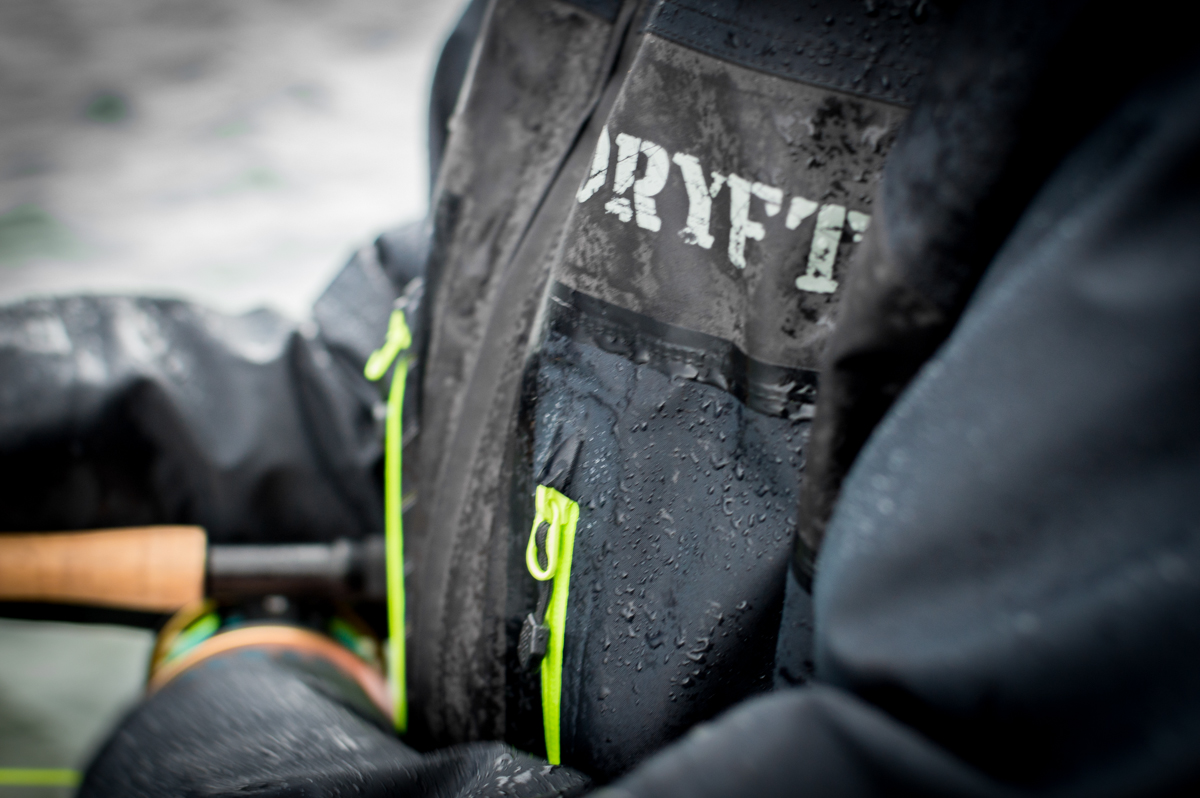 Recent Reviews:
Jon Ades (verified owner) – July 6, 2014: 5 stars
I've been looking to buy a new wading jacket since returning from a cold, windy and rainy trip to Montana recently and realizing my old jacket just doesn't cut it any longer. While researching and shopping for a new jacket online I came across the DRYFT website. I had a few questions about their jacket and fired off an email. My first impression was "WOW". I sent the email inquiry and had an answer within 30 Minutes. I then ordered the new PRIMO Wading Jacket, it was a Friday afternoon. USPS delivered the jacket on Monday, a second WOW, 2 day delivery Seattle to Denver. Examining the jacket reveals a well thought out functional design constructed with quality materials. First, the articulated raglan sleeve for a more natural and comfortable fit with no seam on top of the shoulder to leak (one of many problems with my old jacket). The adjustable snag less cuff design and the smooth front pockets with waterproof zippers, no velcro to catch your line. A clever internally adjustable drawstring at the bottom eliminating another potential snag point. A soft collar and adjustable hood add to the functional features. All seams have been taped to assure they are sealed. Although the jacket has plenty of roomy as well as hand warmer pockets the one thing I find missing is an interior pocket for the likes of a cell phone or license, not a big deal as my shirts have pockets. Thanks DRYFT for great customer service and a well thought out, functional, well made, affordable jacket. Now I'm just waiting for another cold, windy and rainy day to try it out in real life and not just in the shower.
Vickie (verified owner) – June 20, 2014: 5 stars
I love these waders. I ordered the S14 adrenaline waders before they were out and had to wait a a bit for them but they were worth the wait! Very comfortable and got lots of looks from my fellow fisherpeople! I passed on the info to them and hopefully they will order a pair. Love them!!
Corey – June 9, 2014: 5 stars
As the owner of Chugach Backcountry Fishing in Alaska I've spent many days in the rain feeling damp and soggy after a couple of hours in "100% GoreTex" products. It didn't seem to matter which high-performance brand I wore-I always found that eventually my coat and I became saturated-the S14 Wading Coat changed that. As with my Dryft waders, the S14 Jacket not only fits well, looks great, sports a lightweight feel, and is comfortable for rowing in but it is absolutely the best waterproof coat I've used. As a testimate to my belief in this product, within one week I outfitted my entire guiding staff and my family in it. It is the small details of any product that can make it a favorite for everyday use-that's where in-field product testing makes all the difference. Dryft did their homework on this one. I am 100% comfortable leaving cash and my I phone in waterproof sealed pockets, the soft liner on the high neck and in the pockets of the jacket are perfect for cooler temp days, and the peripheral vision I have when the hood is deployed are qualities that every jacket should offer. If you want to stay dry on the fly, the Dryft PRIMO is for you.
Travis (verified owner) – June 6, 2014: 5 stars
I absolutely love this jacket out of the box. I have not had a chance to try it out in hard weather yet, but can say that style, fit, finishing, quality of materials are all top notch. Their style is great, these guys know how to deliver what so far appears to be great style coupled with what appears will be a bomber jacket at a very reasonable price.
Chad Campoamor – : 5 stars
As they did with their waders, Dryft has done it again with the Primo Jacket. I absolutely love this jacket, the fit is perfect, it is breathable, movable and stylish. It has all the pockets and compartments that are needed for a full day on the water and it will most definitely keep you dry and wanting to continue fishing even when the conditions aren't promising. There is plenty of room for layering underneath as well. It is the essential jacket to have here up in Alaska with the way our conditions can be sometimes. Plus, you absolutely cannot beat the price. I have been a supporter of these guys since the beginning and will be until the end. Dryft continues to put out stellar products, and they are without a doubt the future. Everyone should check them out!
– Chad Campoamor
Mayfly Mafia
Soldotna, Alaska